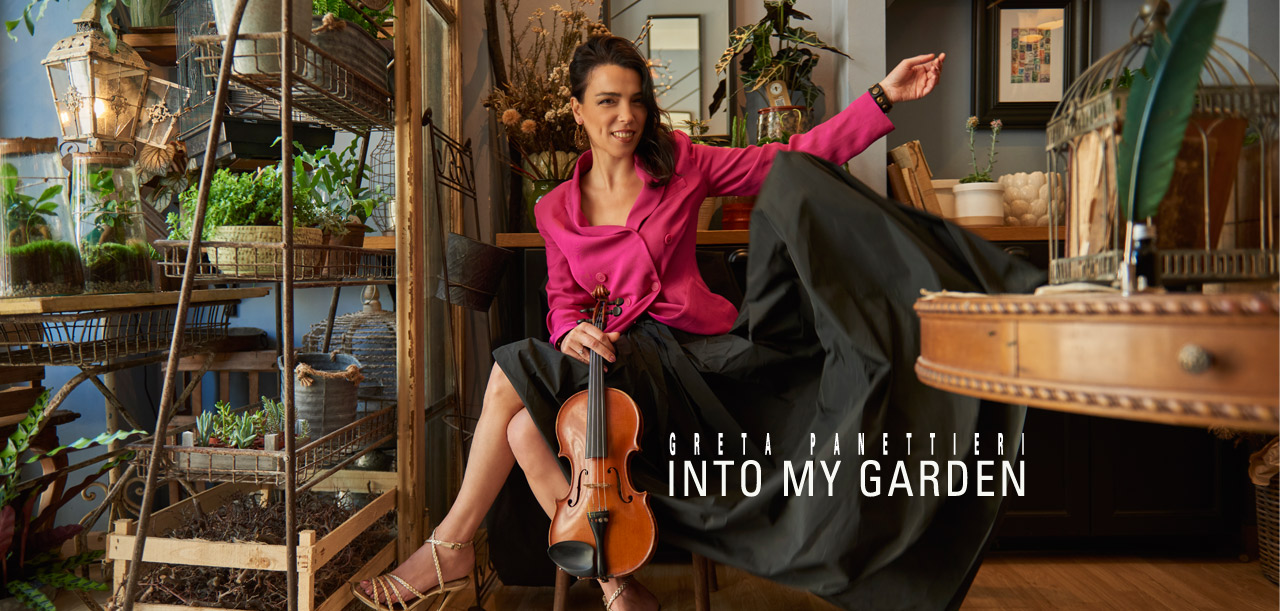 Greta Panettieri NEW ALBUM is Out. "WITH INTO MY GARDEN, I WANT TO UNfold THE KNOTS OF A CONTRASTING WORLD."
The new and eighth album of the great international singer, author and interpreter is released on January 6, in a golden moment between two radio programs, the publication of her second book, conferences and university lectures

The new album of international singer, her eighth on her catalog was released January 6th 2023. A golden moment for the singer songwriter, author end multitasking performer with two radio shows, the publication of her second book, conferences and university lectures at IULM University of Milan and at the Conservatory of Catanzaro.
A whirlwind of experiences and emotions that led to the birth of this new album album, Into my garden, anticipated by the fascinating video clip of the song No more, presented in video première by Repubblica TV. Into my garden is a maturity record, carefully composed and arranged, created during three long and intense years of work.
Seven original songs plus a cover of Bob Dylan's I believe in you. Music and lyrics signed by Greta and her faithful producer Andrea Sammartino, that are introduced  to the world as a tool to untie the knots of a contrasting and difficult world. Both in the recording studio and live, Greta Panettieri accompanies her voice with the acoustic guitar. Around her a string quartet curated by the violist Chiara Ciancone and her historical trio with Daniele Mencarellion bass, Andrea Sammartino on piano and Alessandro Paternesi on drums. The albume features two special guests guitarist Angelo Lazzeri and the trumpeter Fulvio Sigurtà who gave the album a touch of electronics: five musicians with whom Greta has been collaborating for some time, and who complete her sound that has always been multi-stylistic and eclectic. Over the years Greta has expressed herself at the highest levels with innate dexterity between jazz, pop, R&B, Bossa Nova, in this new release we  find distant echoes of classical music, ethnic and traditional music.
About the seven original songs Greta says: "I tried to shed light inside me, simplifying the writing to untie the knots I've been dealing with in recent times: thought, sensations, sometimes conflicting but strong and clear emotions. I chose to reinterpret Bob Dylan's I believe in you as a message of encouragement for the new generations, Dylan addresses God, I ... I believe in young people."
The songs are, as always, very eclectic and different from each other: the style and the suggestions go through swing, afrobeat, contemporary R&B groove and pop, up to  a warmer almost country-folk sound, but with a common thread  in the lyrics and some melodic cells that come back here and there.
If with the album Collection (released in 2020) Greta closed a first cycle of music, Into my garden represents the beginning of a new artistic maturity. Recorded at 96,000 khz 24bit, so that it can also be listened to by those looking for high quality and definition sound, the album bears the mark of the unmistakable work of Andrea Sammartino, Greta's in bot her music and private life, who once again curated the production  from A to Z, from co-writing the songs with Greta, to the sumptuous and sparkling arrangements, to the studio recording, up to the crucial moment of mixing and mastering.
Greta Panettieri: "We started working on "Into my garden" during the first lockdown, Andrea had just bought a zoom to record the sounds of our garden: rain, wind, birds footsteps on the gravel...These sounds are present in the album and all the lyrics were written on my veranda where I definitely let myself be inspired by the suggestions of nature..."